Commercial Roofing Essex MD – Exceptional Company
Experience the unparalleled advantage of proficient, superior, and trustworthy commercial Essex MD roofing services with Turner Roofing Company. With our robust, reliable, and resilient roofing solutions, we ensure your commercial property remains secure and stylish. Leveraging state-of-the-art equipment and our extensive industry knowledge, we are committed to delivering high-grade roofing services that withstand the test of time.
The Unsurpassed Commercial Roofing Services
At Turner Roofing Company, our heritage is carved from an unwavering commitment to roofing superiority. Our extensive services incorporate repair, maintenance, replacement, installation, and restoration of commercial roofs, all under the assurance of a BBB-accredited enterprise. Regardless of the scope of work, be it minor touch-ups or extensive overhauls, we deliver all-encompassing solutions ensuring your business operations under a sturdy roof. With our unmatched proficiency and steadfast devotion to service, we affirm that your roofing needs are met with the highest level of precision and professionalism.
Diligent Commercial Roof Repair
When it comes to commercial roof repair, Turner Roofing Company takes pride in delivering meticulous services that keep your business operations uninterrupted. From addressing minor leaks to repairing significant damages, we provide swift, efficient, and cost-effective solutions. Our skilled team of roofing professionals ensures your commercial property remains safe, dry, and operational, irrespective of the size or complexity of the repair. Through our exceptional roof repair services, we promise to safeguard your investment while enhancing the lifespan of your roof.
Preventive Commercial Roof Maintenance
The key to a long-lasting roof lies in proactive maintenance. At Turner Roofing Company, our preventive commercial roof maintenance service is engineered to prolong the lifespan of your roof. We take systematic steps to identify potential threats and rectify them before they evolve into expensive repairs. Regular inspections, timely clean-ups, and immediate fixes are part of our maintenance routine. Our dedicated maintenance service is the insurance your roof needs to ensure long-term durability and performance. With us, you can enjoy peace of mind knowing your roof is in expert hands.
Skilled Commercial Roof Replacement
Rely on our proficient commercial roof replacement services that guarantee a seamless transformation of your roof. Recognizing when your roof has outlived its utility and needs a replacement is one of our expertise. We guide you through the entire process, ensuring a hassle-free experience. Transitioning from your worn-out roof to a new, robust, and aesthetically pleasing commercial roofing Essex MD system is a job we excel at. With Turner Roofing Company, you can be assured of a replacement that doesn't just fit your building perfectly but also complements its overall appeal while promising longevity.
Expert Commercial Roof Installation
Kickstart your new commercial and government building project with our comprehensive roof installation services. At Turner Roofing Company, we believe that a robust roofing system is the cornerstone of any commercial building. We specialize in installing a wide range of roofing systems that not only enhance the architectural appeal of your building but also ensure it's well-protected against various environmental conditions. Each installation by our team promises longevity, solid protection, and a stellar finish that leaves your commercial property looking impressive and well-guarded.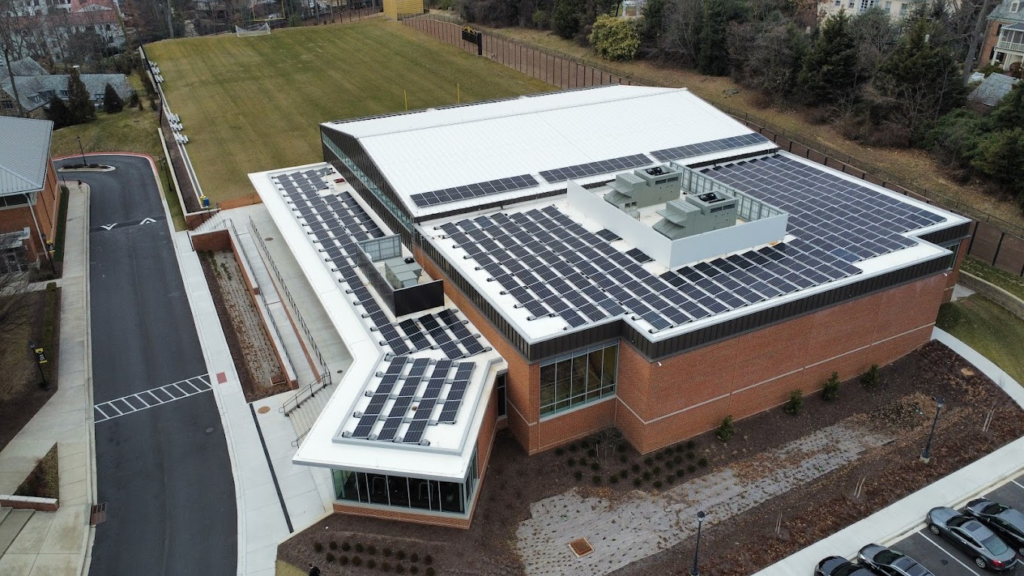 Thorough Commercial Roof Restoration
Bring back your aged or weathered roof to its original glory with our exceptional commercial roof restoration service. At Turner Roofing Company, we understand that over time, roofs can lose their sheen and efficiency due to constant exposure to environmental elements. Our restoration service is designed to breathe new life into such old and damaged roofs. We restore not just the look but also the durability and performance of your commercial roof. From repairing damages to sealing leaks and applying protective coatings, we do everything to ensure your roof is restored to its best possible condition. With our restoration service, you can be assured of a commercial roof that's as good as new.
Esteemed Roofing Contractor in Essex MD
Turner Roofing Company stands out as an esteemed service provider in the field of commercial roofing Essex MD. More than just a contractor, we view ourselves as your partners in safeguarding your valuable investment. Our unwavering commitment to delivering top-notch quality, maintaining full transparency, and ensuring unmatched customer satisfaction forms the core of our services. This strong commitment has positioned us as the most reliable and trusted roofing contractor in Essex MD. With us, you can always expect a professional approach, timely service, and long-lasting roofing solutions.
Importance of Professional Roof Maintenance
The significance of engaging with professionals for commercial roof maintenance cannot be overstated. A dedicated, professional maintenance routine can be a game-changer for your commercial roof's longevity. Regular upkeep not only extends the lifespan of your roof but also presents an opportunity to identify and rectify potential issues before they exacerbate into major damages. In the long run, this approach translates into substantial cost savings. Turner Roofing Company offers well-structured maintenance services that ensure your roof always stays in optimal condition, reducing the likelihood of unexpected repairs.
Frequency of Commercial Roof Inspection
As a rule of thumb, it's advisable to schedule a commercial roof inspection at least twice a year. However, this frequency can vary depending on certain factors. The age of the roof, the prevailing weather conditions in your area, and any recent damages or repairs are some aspects that can necessitate more frequent inspections. Regular inspections by professionals like us ensure minor issues are caught early and fixed promptly, preventing them from escalating into costly problems.
Recognizing The Need for Roof Replacement
Recognizing when a roof replacement is necessary is vital to uphold the safety and durability of your commercial roofing Essex MD. Various indications might point towards the need for a replacement. These signs can be recurring leaks persisting even after multiple repairs, internal signs of water damage, extensive mold or moss growth indicating potential underlying problems, and visible deterioration potentially affecting the roof's overall strength. If these signs are evident, it's recommended to get in touch with our 5-star reviewed professionals at Turner Roofing Company for a comprehensive inspection and guidance on the best course of action.
Frequently Asked Questions
Why is professional roof maintenance crucial?
Professional maintenance safeguards your roof's longevity and can save costs by preventing potential large-scale issues.
How often should I schedule roof inspections?
Ideally, commercial roofs should be inspected twice yearly. However, factors like the roof's age, weather conditions, and recent damages can necessitate more frequent inspections.
What signs indicate a need for roof replacement?
Recurring leaks, water damage indoors, extensive mold or moss, and visible deterioration suggest you might require a roof replacement.