Commercial Roofing Arnold MD – Top-tier Solutions
Located at the heart of Maryland, Arnold bustles with commercial activities, a testament to its vibrant business sector. At the core of every successful business is a sturdy roof, a fundamental necessity Turner Roofing Company appreciates. We offer top-rated commercial roofing Arnold MD services, which include reliable repairs, comprehensive maintenance, and seamless installations.
Arnold's Premier Commercial Roofing Services
Residing in the dynamic center of Arnold MD, we deliver unrivaled roofing services to commercial and government entities. Our expertise covers a broad spectrum of structures, from quaint local businesses to grand commercial establishments. Over time, we have refined our knowledge and skills to cater to all your roofing demands. We are dedicated to delivering premium service, customized to your unique needs, ensuring a sturdy, safe, and long-lasting roof. Our efficiency is unbeatable, designed to minimize disruption to your regular operations. With us, you receive not just a service, but a team devoted to your security and peace of mind.
Superior Commercial Roof Repair
Unforeseen roof damages can strike at the most inconvenient moments, causing unnecessary stress and possible operational interruptions. Our team is here to help. We are experts at providing swift, efficient, and trustworthy commercial roof repairs. Armed with vast experience and leading-edge tools, we tackle roofing issues promptly, guaranteeing repairs that stand up to time and weather. We take the time to understand your roof's unique features and challenges, providing a durable and practical repair solution. By choosing us, you're opting for a service that values your business's continuity and success as profoundly as you do.
Regular Commercial Roof Maintenance
The lifespan of a roof is heavily influenced by routine maintenance. Neglect, even minor, can eventually lead to significant issues. We offer exhaustive commercial roof maintenance programs. Our team of skilled technicians will ensure your roof remains in peak condition, prolonging its lifespan while reducing the chance of expensive damages and repairs. We regularly inspect for signs of damage, decay, and potential vulnerabilities. This proactive methodology allows us to address minor issues before they evolve, saving you time, stress, and money. Your roof is in capable, trustworthy hands with us.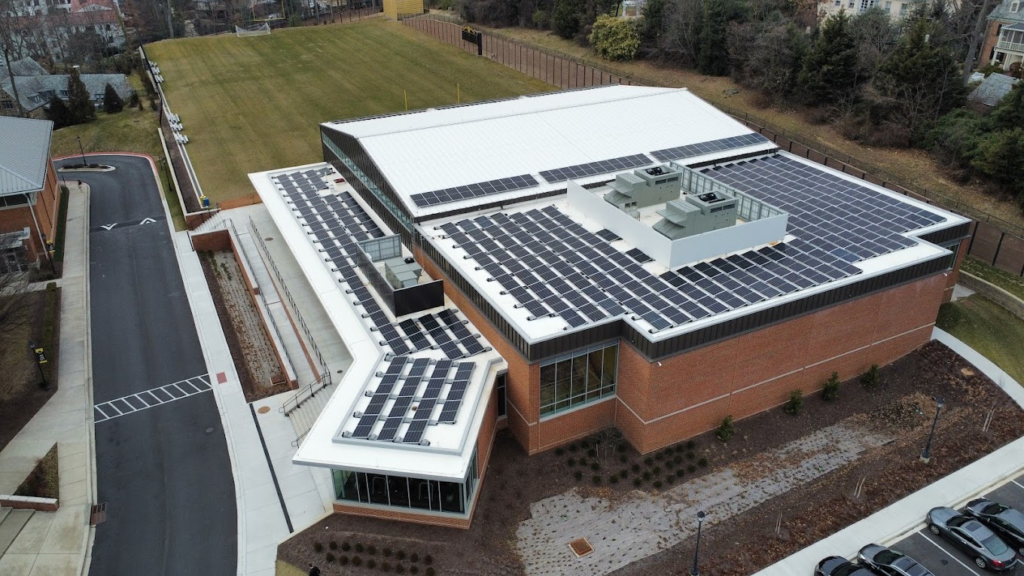 Smooth Commercial Roof Replacement
Every roof eventually meets its expiration date. Some roofs may incur severe damage making repair impractical or unfeasible. In such instances, our team is ready to manage seamless and hassle-free roof replacements. We comprehend the potential disruption a significant task like this can cause your business. Thus, we aim to conduct the entire replacement process with minimal disturbance, working around your schedule. With us, you'll soon have a new, robust, and efficient roof, allowing you to concentrate on your business.
Prompt Commercial Roof Installation
Embarking on a new construction project is exciting, yet it presents numerous considerations. Among the most crucial is establishing a robust roof for your forthcoming business operation. Our 5-star rated team offers swift, reliable, and professional commercial roof installation services tailored to your project's needs. We understand the importance of timelines in construction and make yours our priority. We carry out every step with precision and professionalism, aiming to complete the project within the specified time and budget. For us, speed does not mean compromising on quality. We strictly adhere to the 'do it right the first time philosophy, ensuring superior quality and durability in our installations. Opting for us means more than acquiring a roof – it implies forming a long-lasting partnership dedicated to protecting your business from its inception.
Advanced Commercial Roof Restoration
Sometimes, a roof might seem beyond repair, leading many to consider a complete replacement. However, our BBB-accredited team provides advanced commercial roof restoration solutions, making a full-scale overhaul unnecessary. We utilize modern techniques and high-grade materials to rejuvenate your roof, thereby prolonging its usefulness. We perform a thorough assessment of your roof's condition, identifying areas ripe for restoration. This approach is not just efficient, but a cost-effective alternative to total roof replacement, saving you considerable time and money. With our team at your service, your roof will receive the custom care it deserves, ensuring optimal outcomes.
Your Reliable Roofing Contractor in Arnold, MD
In the ever-changing realm of commercial and government roofing, trust is of utmost importance. We're not merely another roofing company; we're a partner you can rely on. With vast experience, a dedicated team, and numerous content clients, we've established ourselves as a trusted roofing contractor in Arnold, MD. Our reputation rests on integrity, quality, and service. We don't just work for you; we work with you, understanding your unique needs and delivering solutions specifically tailored to them. Our commitment extends beyond project completion; it encompasses ensuring your peace of mind and satisfaction long after our work is finished. Entrust us with your commercial roofing Arnold MD needs, and we'll demonstrate why we're the best in our field.
FAQs of Commercial Roofing in Arnold, MD
Commercial roofing can be fraught with uncertainties and queries. Seeking clarification on such a critical component of your business infrastructure is completely understandable. To help, we've compiled a list of frequently asked questions about commercial roofing Arnold, MD.
What various types of commercial roofing systems do you offer? We provide a wide range of commercial roofing systems to suit diverse needs. These include flat roofs, metal roofs, TPO roofing, EPDM roofing, and more. Our team will collaborate with you to determine the best fit for your building's specific needs and budget.
How frequently should I schedule maintenance for my commercial roof? Generally, we recommend at least two maintenance checks per year. However, the exact frequency can depend on factors such as your roof's age, its current condition, and the local weather conditions. Regular maintenance is key to extending your roof's lifespan and avoiding expensive repairs.
What signs indicate my roof may need repair? Typical signs of roof damage include leaks, standing water, visible damage (cracks, blisters, or punctures), damaged flashing, and increased energy costs. If you notice any of these signs, it's wise to contact us immediately for a thorough roof inspection.
What is the expected lifespan of a commercial roof? The lifespan of a commercial roof can significantly vary, depending on the materials used and the quality of installation and maintenance. Generally, a well-maintained commercial roof can last anywhere between 10 to 50 years.
Do you offer emergency roof repair services? Yes, we recognize that some roofing issues demand immediate attention. That's why we offer emergency roof repair services in Arnold, MD. Our team is prepared to respond quickly and efficiently to ensure your business experiences minimal downtime.