Commercial Roofing Bel Air MD – Preeminent Services
Experience the unprecedented benefit of competent, high-quality, and trustworthy commercial roofing Bel Air MD services with Turner Roofing Company. With our solid, dependable, and enduring roofing solutions, we guarantee your commercial property stays safe and aesthetically pleasing. Utilizing cutting-edge equipment and our vast industry experience, we are dedicated to providing superior roofing services that stand the test of time.
Incomparable Commercial Roofing Services
At Turner Roofing Company, our legacy is rooted in unwavering dedication to roofing excellence. Our comprehensive services include repair, maintenance, replacement, installation, and restoration of commercial roofs, all backed by a BBB-accredited establishment. Regardless of the project size, from minor retouches to extensive renovations, we offer comprehensive solutions to ensure your business functions under a robust roof. With our unparalleled expertise and firm commitment to service, we guarantee that your roofing needs are addressed with utmost precision and professionalism.
Meticulous Commercial Roof Repair
Turner Roofing Company takes immense pride in offering meticulous services for commercial roof repair, ensuring your business operations continue without disruption. From rectifying minor leaks to mending significant damages, we offer quick, efficient, and budget-friendly solutions. Our competent team of roofing experts guarantees that your commercial property stays secure, dry, and functional, irrespective of the size or complexity of the repair. Our exceptional roof repair services promise to protect your investment and extend the lifespan of your roof.
Proactive Commercial Roof Maintenance
The secret to a durable roof lies in preventative maintenance. At Turner Roofing Company, our proactive commercial roof maintenance service is designed to extend your roof's lifespan. We take systematic measures to spot potential threats and correct them before they morph into costly repairs. Regular inspections, timely clean-ups, and immediate repairs form part of our maintenance regimen. Our devoted maintenance service is the protection your roof requires to ensure enduring durability and performance. With us, you can rest assured knowing your roof is in expert care.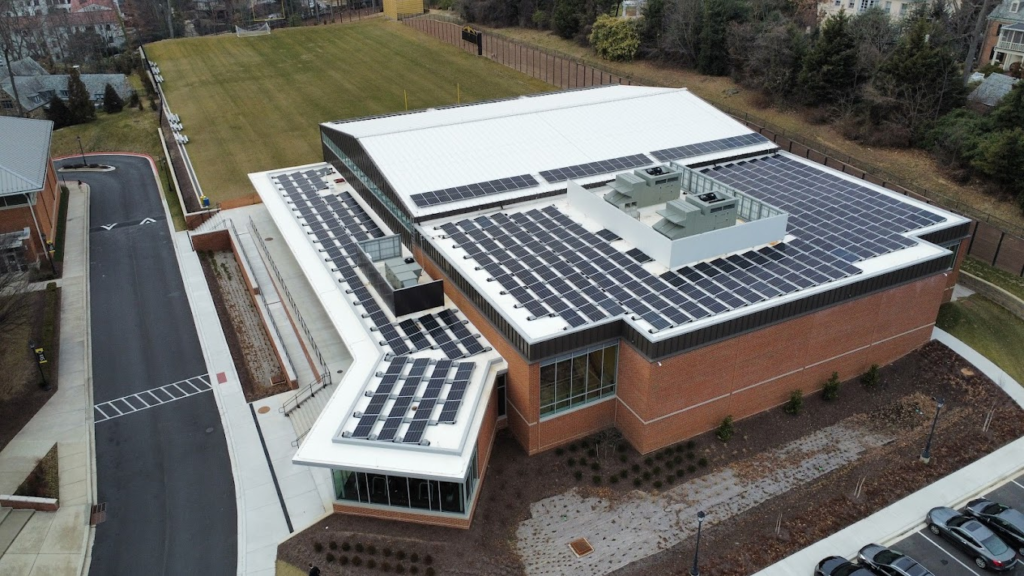 Proficient Commercial Roof Replacement

Rely on our adept commercial roof replacement services that promise a smooth metamorphosis of your roof. Discerning when your roof has surpassed its lifespan and necessitates a replacement is part of our expertise. We navigate you through the entire journey, ensuring a stress-free experience. The transition from your aged, worn-out roof to a fresh, resilient, and aesthetically pleasing commercial roofing Bel Air MD system is something we excel at. With the 5-star reviewed Turner Roofing Company, rest assured of a replacement that not only complements your building flawlessly but also augments its overall aesthetics, assuring durability.
Exceptional Commercial Roof Installation
Initiate your new commercial and government building venture with our all-inclusive roof installation services. At Turner Roofing Company, a BBB-accredited firm, we regard a sturdy roofing system as the bedrock of any commercial infrastructure. We excel in setting up a wide range of roofing systems that don't just augment the architectural allure of your building but also safeguard it against varied environmental challenges. Every installation carried out by our team assures lasting durability, robust protection, and an exceptional finish that renders your commercial property both visually striking and securely fortified.
Comprehensive Commercial Roof Restoration
Revive your old or weather-beaten roof to its original glory with our outstanding commercial roof restoration service. At Turner Roofing Company, we recognize that over time, roofs can lose their luster and efficiency due to continual exposure to environmental elements. Our restoration service is designed to rejuvenate old and damaged roofs. We restore not just the appearance but also the durability and performance of your commercial roofing Bel Air MD. From repairing damages to sealing leaks and applying protective coatings, we do everything to ensure your roof is restored to its prime condition. With our restoration service, you can expect a commercial or government roof that's as good as new.
Reputable Roofing Contractor in Bel Air MD
Turner Roofing Company shines as a reputable service provider in the field of commercial roofing Bel Air MD. More than just a contractor, we see ourselves as your partners in safeguarding your invaluable investment. Our steadfast commitment to delivering high quality, maintaining complete transparency, and ensuring unparalleled customer satisfaction form the heart of our services. This strong commitment has set us apart as the most reliable and trusted roofing contractor in Bel Air MD. You can always anticipate a professional approach, punctual service, and durable roofing solutions with us.
FAQ of Commercial Roofing in Bel Air MD
Question: What types of commercial and government roofing systems does your company install?
Answer: Our company is proficient in installing a vast range of roofing systems tailored to commercial and government buildings. This includes TPO, EPDM, PVC, metal, and modified bitumen roofs. We evaluate the specific requirements of each structure and suggest the most suitable roofing system.
Question: How frequently should we have our commercial or government building roof inspected?
Answer: Generally, we recommend that the roof of your commercial or government building undergo inspection at least twice per year. However, certain conditions such as the age of the roof, recent damages, or the region's prevailing weather conditions might require more regular inspections.
Question: When would a commercial or government roof typically require replacement?
Answer: Several signs might indicate the need for roof replacement. These include ongoing leaks despite several repairs, internal indications of water damage, extensive mold or moss growth, and visible deterioration that could compromise the roof's overall strength. Should you observe these signs, we advise a comprehensive inspection to outline the most appropriate action plan.
Question: What is involved in your preventative maintenance service for commercial and government roofs?
Answer: Our preventive maintenance service incorporates routine inspections to detect potential issues, timely clean-ups, and instant repairs. The objective is to rectify minor problems before they turn into expensive repairs, ensuring your roof's durability.
Question: What is the process for commercial or government roof installation?
Answer: The installation process initiates with an assessment of your building's unique needs. We then assist you in choosing the right roofing system. Once decided, our team proceeds with the installation, securing a strong, well-protected roof that enhances your building's architectural appeal.