Commercial Roofing Abingdon MD – Trustworthy & Quality-Driven Services
We appreciate the substantial investment embodied in your commercial infrastructure and acknowledge the vital role a sturdy, secure roof plays in its overall protection. Turner Roofing Company extends beyond being a local roofing solution; we are a staunch partner for businesses in Abingdon, MD. With deep community ties, we have catered to a diverse array of clients from budding local enterprises to well-established corporations, with steadfast commitment and exceptional workmanship.
Our proficiency is a fusion of hands-on experience, innovative techniques, and ongoing learning to stay abreast of the latest roofing technology developments. We custom-tailor our approach to each project, understanding your unique needs before suggesting the most suitable solutions.
Dependable and Superior Commercial Roofing Services
Turner Roofing Company firmly believes that a robust roof is the bedrock of a secure commercial establishment. Thus, we offer a comprehensive suite of services tailored to address all your roofing requirements. We leverage our expansive industry insight, unmatched experience, and use of premium-quality materials to offer dependable and superior commercial roofing Abingdon MD services. Be it a minor repair or a major installation, our committed team is prepared to tackle projects of any scale with accuracy and professionalism. At Turner Roofing Company, we're not just service providers; we're purveyors of peace of mind.
Vital Commercial Roof Repair
Minor damage to your roof, while seemingly insignificant, can quickly snowball into considerable issues if overlooked. Our vital commercial roof repair services are precisely crafted to address such issues. Our capable team stands out in recognizing and fixing these slight problems before they amplify, circumventing possible future expenditures and business interruptions. From a seemingly harmless leak to negligible wear and tear, we act swiftly and proficiently to prevent additional deterioration. Our aim is not just to repair but to enhance your roof's resilience and effectiveness. In the process, we reinforce the longevity of your roof, allowing it to weather the elements more effectively, and preserve the integrity of your commercial property.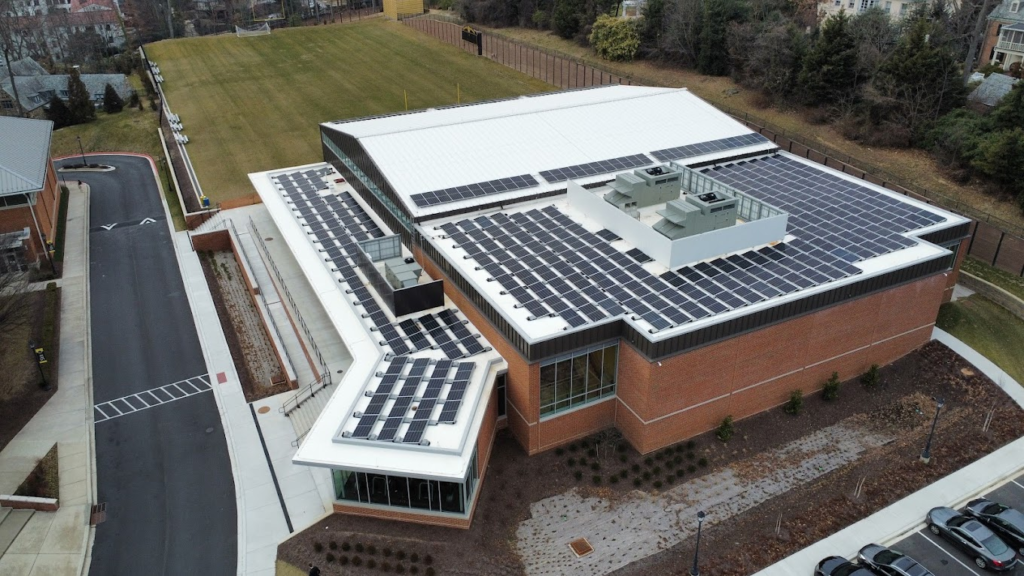 Periodic Commercial Roof Maintenance
Consistent and proactive upkeep is the secret formula for extending your roof's life expectancy and maintaining its optimum functionality. Our team of seasoned experts conducts systematic assessments, implements preemptive repairs, and conducts meticulous cleanings to ensure your commercial roofing Abingdon MD remains in an exceptional state all year round. This isn't merely about preserving the physical structure but also about ensuring energy efficiency and cost savings. Our proactive maintenance strategy allows us to spot potential issues early and handle them swiftly, thereby enabling you to avoid expensive repair or replacement costs, saving both time and valuable resources in the long run.
Streamlined Commercial Roof Replacement
When your roof reaches its life expectancy, our streamlined commercial government roof replacement services guarantee a seamless and stress-free transition. Our talented team will carefully dismantle your existing roof, responsibly manage the waste, and install a new, resilient roof designed to meet your building's specific requirements. We understand that a roof replacement is a considerable undertaking, often involving significant time, cost, and disruption. We strive to alleviate these pressures by ensuring a seamless transition that meets regulatory requirements and building codes. With Turner Roofing Company, you can rest assured that your new roof will offer improved protection, energy efficiency, and aesthetic appeal for many years to come.
Professional Commercial Roof Installation
At Turner Roofing Company, we understand the crucial part a properly installed roof plays in both the construction of a new building and the expansion of an existing one. Being a BBB-accredited business, our expert commercial roof installation services are committed to providing you with a durable, lasting roofing system. Our experienced technicians collaborate effectively with builders and architects to guarantee seamless integration with your building's overall design. By employing high-quality materials and cutting-edge techniques, we ensure your new roof not only meets but exceeds industry benchmarks. Moreover, we prioritize meeting the project timeline and budgetary constraints, understanding that any delay or unexpected cost can have a significant impact on your business operations.
Comprehensive Commercial Roof Restoration
When your roof has suffered substantial damage but isn't quite ready for a full replacement, our comprehensive commercial roof restoration service becomes your optimal choice, as reflected in our multitude of 5-star reviews. We excel at restoring roofs to their original state, significantly extending their operational lifespan. Our expert team conducts an exhaustive roof assessment, identifies problem areas, and uses top-notch materials for restoration. Our thorough restoration procedure not only fixes visible damage but also reinforces your roof's structural integrity. This approach provides a cost-effective alternative to total replacement while ensuring your business remains securely protected.
Turner Roofing Company: A Reputable Roofing Contractor in Abingdon, MD
In the commercial roofing, reputation is everything, and reliable roofer in Abingdon MD like Turner Roofing Company has earned the trust of numerous businesses in Abingdon MD, garnering positive reviews on platforms like Facebook and Yelp. Our promise goes beyond superior craftsmanship; we also ensure top-tier customer service. Our certified team of professionals leaves no detail overlooked in delivering a roof that harmonizes aesthetics with durability. With a focus on transparent and continuous communication, we keep you informed at every step, always ready to answer your questions in regard to your commercial roofing Abingdon MD projects. Our ethos is grounded in integrity, professionalism, and an unwavering dedication to client satisfaction. At Turner Roofing Company, we don't just build roofs; we build enduring relationships with our clients.
FAQs of Commercial Roofing in Abingdon, MD
What services does Turner Roofing Company offer? We provide an exhaustive range of services including roof installation, repair, maintenance, replacement, and restoration.
How often should a commercial roof be inspected? It is advisable to inspect commercial roofs twice a year – during the spring and fall.
How long does a commercial roof typically last? Depending on the materials utilized and the level of maintenance, a commercial roof can last between 20 to 30 years.
Does Turner Roofing Company handle emergency repairs? Yes, we offer round-the-clock emergency roof repair services.
What are the indicators that a commercial roof might need replacement? Consistent leaks, excessive granule loss, sagging, and visible damage suggest that a roof may require replacement.