Commercial Roofing Ellicott City MD- Unrivalled Excellence
In the bustling atmosphere of Ellicott City, MD, commercial buildings punctuate the cityscape, each adorned with a roof that tells a story about the business it shields. But commercial roofing Ellicott City MD needs to do more than just catch the eye—it must be durable, resilient, and eco-friendly. Enter Turner Roofing Company, your one-stop solution for a wide range of commercial roofing Ellicott City MD services, carefully shaped to fit your unique business needs and personal tastes.
Our priority is to deliver sturdy, enduring solutions that preserve the essence of your building and enhance its visual appeal. From minor fixes and preventative maintenance to comprehensive upgrades or fresh installations, our team of certified experts is geared up to handle everything. Employing cutting-edge technologies and the best materials in the industry, we create roofs that offer superior safety, remarkable durability, and high energy efficiency. Our service goes beyond just providing a solution – it's a promise to elevate your business's image, secure your investment, and lower long-term upkeep costs.
Tailor-Made Commercial Roofing Services
Our goal is to offer a specialized roofing solution that perfectly complements your commercial property. We understand that each building has its unique demands and warrants a roof specifically designed to meet those requirements. From comprehending your needs to recommending appropriate materials and styles, our team walks alongside you throughout the process, promising an end product that not only meets but surpasses your expectations.
Reliable Commercial Roof Repairs in Ellicott City, MD
Unpredictable situations can leave your commercial roof in Ellicott City, MD, requiring repairs. Whether it's weather-inflicted damage or regular wear and tear, our team excels at identifying problems promptly and offering effective repair strategies. Our goal is to prolong the life of your roof while maintaining its robust, protective capabilities for your commercial property.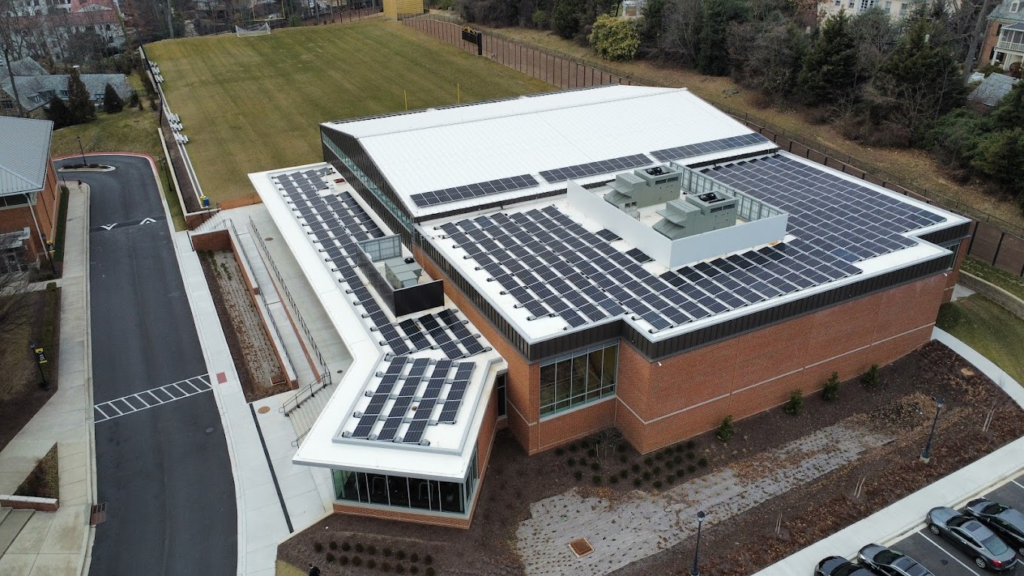 Premier Commercial Roof Maintenance Services
Neglecting your commercial roofing Ellicott City, MD, can result in serious complications in the future. Turner Roofing Company provides unrivaled commercial roof maintenance services in Ellicott City, MD, ensuring your building's pinnacle stays in tip-top shape. Our meticulous team conducts comprehensive inspections, detects potential issues, and implements preventative steps to enhance your roof's longevity and avert expensive repairs or replacements. Our maintenance service is a valuable investment for the safety and efficiency of your business.
Outstanding Commercial Roof Replacement Solutions
Every roof inevitably reaches the end of its lifespan. Turner Roofing Company offers first-rate government roof replacement services in Ellicott City, MD. Our experienced team ensures a smooth, hassle-free renewal process, minimizing disruptions to your business operations. Using durable, high-quality materials, we guarantee a new roof built to endure time and weather extremes, providing a secure, pleasant, and productive working environment. As a BBB-accredited firm, we underscore our dedication to quality and customer satisfaction.
Top-Notch Commercial Roof Installation
Building or expanding a commercial establishment involves vital decisions, including choosing an appropriate roof. Turner Roofing Company, a BBB-accredited firm, provides superior commercial roof installation services in Ellicott City, MD. Our skilled team will guide you in choosing the perfect roofing material tailored to your building's structure and your business's needs. With our accuracy-focused methodology, we assure a flawless first-time roof installation, ensuring lasting durability, weather resistance, and optimized energy efficiency.
Peerless Commercial Roof Restoration
Is your commercial rooftop displaying signs of degradation? Turner Roofing Company, highly praised in numerous 5-star reviews, delivers unmatched commercial roof restoration services in Ellicott City, MD. Our seasoned crew can revitalize your aging roof, tackle minor issues, replace damaged sections, and apply sealing techniques to prolong its usability and enhance its aesthetic value. A successfully restored roof can improve the appeal of your business and offer considerable savings by avoiding the costs and disruptions associated with a full roof replacement.
Your Dependable Roofing Contractor in Ellicott City, MD
For vital considerations like your commercial roof, you need the certainty of collaborating with a reliable and trustworthy roofing contractor. Turner Roofing Company has garnered an exceptional reputation on platforms like Facebook and Yelp for its quality, reliability, and customer satisfaction in Ellicott City, MD. Our team of certified professionals is committed to delivering superior roofing services that exceed your expectations. For all your commercial roofing Ellicott City MD needs, Turner Roofing Company is your ultimate choice.
FAQ of Commercial Roofing in Ellicott City, MD

What type of commercial roofing services does Turner Roofing Company provide in Ellicott City, MD?
Turner Roofing Company offers a wide range of commercial roofing Ellicott City MD services. These services include roof repairs, regular maintenance, roof replacement, roof installation, and roof restoration.
What types of roofing materials does Turner Roofing Company use for commercial roof installation and replacement in Ellicott City, MD?
Turner Roofing Company utilizes a variety of high-quality, durable materials for roof installation and replacement. The exact material used is tailored to the building's design and the specific needs of your business. Our team of professionals can guide you in making the best choice based on your requirements.
Why is regular maintenance of my commercial roof in Ellicott City, MD, important?
Regular maintenance is crucial for the longevity and functionality of your commercial roof. It helps identify potential issues early, allowing for preventative measures to be taken before they become critical. Regular maintenance also ensures the safety and productivity of your business by keeping your roof in top condition.
How does Turner Roofing Company ensure a hassle-free roof replacement process?
Our experienced team at Turner Roofing Company follows a systematic and efficient process to minimize disruptions to your business during a roof replacement. We aim for a seamless, trouble-free renewal process using superior-quality materials and a precision-driven approach.
What is involved in commercial roof restoration provided by Turner Roofing Company in Ellicott City, MD?
Our commercial roof restoration service involves a comprehensive evaluation of your rooftop's current state. We address minor problems, replace impaired sections, and apply sealing treatments as needed. Our goal is to prolong the roof's functionality, boost its aesthetic appeal, and provide significant savings by avoiding the costs associated with a full roof replacement.